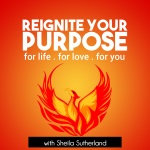 If you are here it is because you heard Shelia Sutherland and me talking on the Reignite Your Purpose podcast. I hope you had as much fun listening to us as I did talking to Sheila. She is a wonderful host who is passionate about helping you reignite your purpose for life, for love and for you.
"Negative things can happen in life,
but you don't have to let them define you."
I'm passionate about helping you BLOOM FROM THE INSIDE OUT.
I have no doubt that something resonated with you and brought you here, welcome!
Did the podcast resonate with you?
Do you want change your own negative core beliefs and feel the impact it can have in your life?
Do you want to learn more about my coaching style?
Do you just want to learn more about that voice you heard?
Whatever the reason, I'm glad you are here.
You can find the resources I mentioned on the interview below. Make sure to look around the site to learn more about:
"You can improve your ability to do all things
effectively by engaging in more positive self talk."